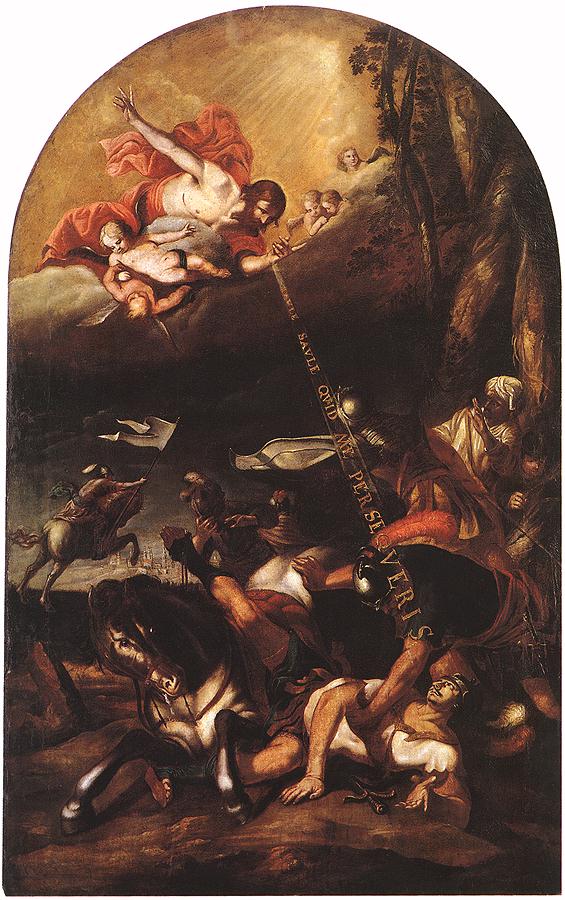 What is up with Christians and the story of Paul's conversion? Why do they throw this story up as 'evidence' or 'proof' of the Christian religion? As a Christian I always thought the story of Paul's conversion was relevant in that it was the conversion account of the most influential Apostle for the later Church, but proof or evidence? Why would a non-believer be moved by the account of an Apostle's conversion? I never used it in my witnessing as I could just hear non-believers saying, "So? How do we even know that is a true story?" or "Who cares? Who's he?"

Yet for many Christians this story holds water for some reason. Evangelists would sometimes preach the story and even get a response at the altar-call. I never understood that. As I ponder it I think that maybe it is the drama of it. The hard-ass persecutor gets zapped and becomes the hard-ass Apostle. I guess that much of it makes a good story. Perhaps there are some archetypes in there that resonate with us. Like Darth Vader's deathbed conversion at the end of Return of the Jedi, we all love it when bad guys turn good.

The story of Paul's conversion is told 3 times in the book of Acts (9; 22; 26). And yep, you guessed it, the stories don't match up. The accounts are not only different but in some places, irreconcilable.

After the light hits Paul and Jesus talks to Paul the stories conflict.


Act 9:7
And the men which journeyed with him stood speechless,

hearing a voice

, but seeing no man.
Act 22:9
And they that were with me saw indeed the light, and were afraid; but they

heard not the voice

of him that spake to me.
OK, so there we have the guys with Paul hearing the voice and then not hearing the voice. So which one is it? It can't be both.
Act 9:4, 7, 8
And

he fell to the earth

, and heard a voice saying unto him, Saul, Saul, why persecutest thou me?...And the men which journeyed with him

stood

speechless... And

Saul arose

from the earth
Act 22:7

And I fell unto the ground

, and heard a voice saying unto me, Saul, Saul, why persecutest thou me

?
Act 26:14

And when

we were all fallen to the earth

, I heard a voice speaking unto me, and saying in the Hebrew tongue, Saul, Saul, why persecutest thou me?
And here we have Acts 9 & 22 saying it was only Paul who fell and then chapter 9 even saying that that the other men were standing, but chapter 26 says they all fell. Which is it? It can't be both. Either Paul fell alone, or they all fell together.
Go and read the NIV to see how the Evangelicals involved in that translation have amended this apparent error. They have changed the word 'hear' in Acts 22:9 to 'understand' which is something earlier and later translations including the KJV and RSV do not do for good reason. The Greek word for 'hear' in verse 9 simply shouldn't be translated as 'understand' (see
here
).
One guy fell, they all fell. One guy heard a voice they all heard heard a voice. How did I ever believe God had a hand in that book?